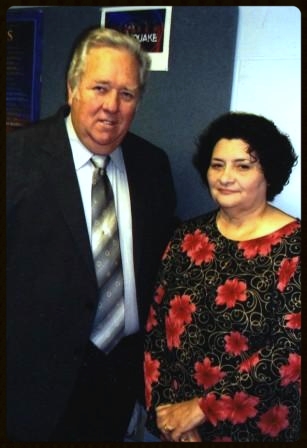 Grady and Delilah Sibbett
Since my first trip to Haiti in 1987, Delilah and I have partnered to continue the work in Haiti, that God has called us to do.
During each trip we fellowship several Church's and minister to each congregation the love of Jesus Christ.
In Port Au Prince, we teach local Pastors for 3-4 days at Bishop Chervil's Church. Bishop Chervil calls a Pastor's Convention just for this time of fellowship and teaching, while we are there.
We also help Bishop Chervil financially, to aid him in feeding the children at the orphanage and to help in other areas, such as, the Port Au Prince Church School and his other outreach ministries, which include evangelistic work all over Haiti.
Each trip we go out to La Val, on the Caribbean Sea-side of Haiti. Our mission is to preach and fellowship the believers in the area.
We began going to this area in 1987 and have supported this local group since. The Borgella Family donated the land and backed the establishment of this Church at this location and we have become one Family over the years. There is a local Graduate Church School at this location for the people in the area.
Calling to Haiti / Ministry
The goal of the ministry that we do in Haiti is to help the local Ministers, that we have come to know and love for the past 30 years. To aid them financially and support them in their efforts to preach and establish the Christian Faith in a country where 90% of the population practices voodoo.
Bishop Chervil, Pastor Nerrett, Pastor Henoch Borgella, Bishop Christian Pierre'. All of these men preach and teach the truth of the Word of God and demonstrate the Holy Spirit with Power. All of these Brother's are full-time Ministers. Haiti is a very poor country with no work for the people to have finance to support much. However these men teach their congregation to give out of what they are blessed with. My heart goes out to them and their people. They are of the Body of Christ and they are hurting. This is why I answered the call to Haiti.
I have personally lived with, slept with and ate with these men. I know them better than I know most of you. They are true Brethren in Christ Jesus.
Bishop Chervil is used mightily by the Holy Spirit, by demonstrating the Gospel of Jesus Christ, with power and deliverance. Head Bishop over several Church's of which he has established. His main Church in Port Au Prince has a school and orphanage, that is in constant need of support.
Pastor Nerrett in La Val, I have also known 30 years. He is very faithful to the call of God in the area that he is in. In the last 30 years I have seen a tremendous growth of this work in La Val to where the Gospel preached and demonstrated, through this ministry, has driven the practice of voodoo out of this area and several other Church's have been established here.
Pastor Henoch Borgella works among the people of Haiti. He works out of Bishop Christian's Church in Port Au Prince and also out of his home church in La Val. He trains musicians how to play the musical instruments that are used in the orchestras of Bishop Christians Church and at Pastor Nerretts Church in La Val. He also evangelizes all over the mountains of Haiti, preaching the Gospel of Jesus Christ.
Bishop Christian Pierre' is a precious man of God that loves the people of Haiti. Through his leadership as Pastor of his congregation in Port Au Prince, he has established a great work to share the Gospel. His Church facility was destroyed by the earthquake. He and his congregation today is worshiping in the partially built new location. Concrete floor, tin roof on wood post, no walls. Between 350-400 people meet and worship under this structure, every service. He's a dancer before the Lord. Bless's my soul!!
Make sure you check out each locations page.